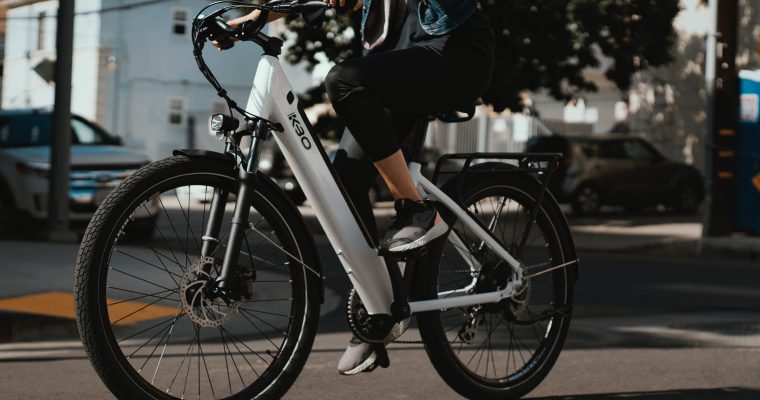 It seems, everywhere you look these days, someone is riding or driving an electronic bike, scooter or some other rapid form of transport that's not a car or motorbike. And, far from being the sole purvey of millennials or Gen-Zs, businesses are now seeing the value of incorporating bicycles, eBikes and eScooters – what's collectively becoming referred to as 'micromobility' – into their fleet mix. 
So, what is micromobility?
'Micromobility' is a term that's increasingly being used to describe a nascent mobility option, not just here in Australia and Aotearoa New Zealand but on a global scale. Being so new, its definition is also evolving, although we can safely consider it to be an umbrella category for smaller, more physically flexible transport types such as bicycles, eBikes, electric scooters and other forms of mobility like scooters for seniors.  
The US Department of Transportation's Federal Highway Administration defines micromobility as "any small, low-speed, human- or electric-powered transportation device, including bicycles, scooters, electric-assist bicycles, electric scooters (e-scooters), and other small, lightweight, wheeled conveyances."  
Other definitions of micro mobility focus primarily on powered micro-mobility devices and characterise these as partially or fully motorised, low speed (typically less than [48 kp/h]), and small size (typically less than [230 kilograms] and less than [1 metre] wide). 
The growth of micromobility
It's difficult to empirically gauge the growth in popularity of micromobility. Given it's still in its infancy, the industry generally hasn't been keeping reliable statistics.  
Tony Davis writing in The Australian Financial Review suggests, however, that research conducted by Zipidi Micromobility provides some solid ground from which to draw conclusions about the proliferation of eBikes, scooters and other electric mobility vehicles. 
"Australians have bought about 350,000 tiny electric mobility vehicles in the past few years and e-bikes are booming, according to Stephen Coulter, co-founder of Zipidi Micromobility," states Davis. "Coulter's research suggests up to 100,000 devices were sold in Australia in 2022, and demand comfortably outstripped supply." 
While reliable data might be in short supply at present, figures released by McKinsey about investment in the sector gives some insight into the industry's growth and the bets that venture capitalists are placing on the sector to return a significant profit. 
Between 2015 and 2019, almost $US7 billion was invested in micromobility. Although that figure dropped to $US800 million in 2020, $US2.9 billion was invested in 2021, leaving the authors of the McKinsey report optimistic that the 2022 investment figure would exceed $US3 billion and continue its upward trajectory after the COVID-19 contraction in 2020. 
From 2018 to 2022, institutional investors accounted for 92 percent of the $US8.4 billion that flowed into the sector ($US7.7 billion): "Mobility service providers accounted for about $500 million in funding, or 6 percent, and Original Equipment Manufacturers for about $170 million, or 2 percent." 
In Australia, micromobility revenue was $A16.9 million in 2020 and, according to a Research and Markets report "is set to surge to $19,185.6 million by 2030, at a [Compounded Annual Growth Rate] of 89.5 percent from 2021 to 2030. The major growth drivers for the market are the convenience and low price of micromobility services and burgeoning need for better first and last mile connectivity." 
Micromobility for last-mile delivery
If you live in one of Australia or Aotearoa New Zealand's larger urban areas, or a big regional centre, the odds are pretty short you'll have used a food delivery service like Uber Eats or Menulog. The chances are also high that the person delivering your order to your front door is using an eBike or electric scooter to do so.  
While there's broad support for micromobility as a personal means of transportation, in the last-mile delivery sector, micromobility is proving to be a game-changer. 'Last-mile' refers to the part of the supply chain that gets a product from the kitchen, warehouse, despatch or office to its final destination (e.g. your home). If the deliveries are small in size, micromobility facilitates speedier, more timely delivery and removes further congestion on our already congested roads. 
Australia Post has been slowly transitioning its truck fleet from diesel-power to electric since 2019. In December 2022, however, executives announced to a parliamentary road safety inquiry they were on track to phase out their entire "postie bike" fleet, which has been in operation since the 1970s, and replace them with electric delivery bikes (or eDVs — electric delivery vehicles) by 2025.    
While making the move to boost employee safety, AusPost's transition to eDVs also aligns with their strategic goal of reducing carbon emissions by 15 percent by 2025. From a business perspective, eDV trials have demonstrated that not only are they safer than postie bikes for workers, but they're capable of carrying a greater number of parcels and general mail than their pedal-powered predecessors.  
IKEA, and Scandinavia in general, is synonymous with innovation. So, it should come as no surprise that the global furniture and home accessories giant has been implementing last-mile EVs to its delivery fleet since 2019. In November 2022, IKEA announced a three-month trial of these specially designed Tuk-Tuk electric delivery vehicles.  
"IKEA led the way as the first Australian home furnishing retailer to implement home deliveries with electric vehicles. Now, we are striving towards an ambitious goal of 100% zero-emissions delivery by 2025," said company CEO and Chief Sustainability Officer Mirja Viinanen at the trial's launch. 
In conclusion
Micromobility is rapidly gaining traction as a viable alternative to traditional methods of transportation. While they have a significant role to play in helping to reduce carbon emissions, eBikes, eScooters and other forms of electronic transport are demonstrating the important role they can play for businesses, especially in the last-mile delivery game. And this is just the beginning.  
Start a conversation with SG Fleet today. 
Driving Insights