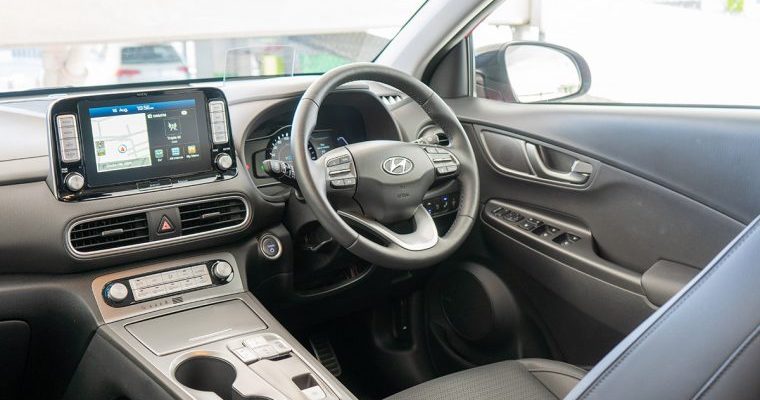 Gizmos & Gadgets – The best car technologies for fleet safety
For your fleet
We're all well aware that autonomous (or driverless) passenger, commercial and heavy vehicles are on their way. There are still a number of years to go until they're available on Australian roads but much of the technology that will underpin these vehicles is already available in today's cars.
Many of the emerging gizmos and gadgets have safety as their primary focus, meaning that our task of keeping your employees safe behind the wheel on increasingly busy and congested roads is being made that little bit easier.
When framing procurement and fleet replacement decisions for your business, it's important to know about these in-vehicle safety gadgets and know how they work. Making sure you're familiar with all the safety developments of your new vehicle options, and then ensuring your drivers are learning how to activate them, is just as important as the manufacturer creating the technology in the first place.
Here are some of the best examples now in use:
Adaptive Cruise Control
Powered by a radar, or some kind of sensor unit placed in the front of the vehicle's chassis or grill (or in Subaru's case, cameras at the top of the windscreen), Adaptive Cruise Control tracks the distance between your vehicle and the one in front, and maintains that set distance if the vehicle ahead slows down.
In a situation where the lead vehicle speeds up however, the Adaptive Cruise Control will maintain the distance between the two cars, up to the speed limit you've set on your car. For example, if you've set your Cruise Control for 98km/h in a 100km/h zone, that's the maximum speed your vehicle will do, even if the vehicle in front exceeds 98km/h.
As well as on highways, Adaptive Cruise Control can be set for city driving in some makes and models. The technology can bring the car to a complete stop then allow it to move safely ahead, which means you don't need to touch the controls, even in peak traffic situations.
Lane Departure
Many, if not all, major manufacturers have a Lane Departure safety feature available on new vehicles. It does exactly as the name suggests. When you switch on your Lane Departure function, the car will warn you via a beep, steering wheel vibrations or a dashboard alert when you sway or drift too far out of your driving lane.
Other variations of this safety feature include Lane Centring Assist (keeps the vehicle centred in a lane) and Lane Keeping Assist (nudges the vehicle back to the centre of the lane if you drift).
Each function involves the use of a camera or sensors that detect lane markings or road widths, and reacts when your vehicle moves too far off centre or is about to merge into the neighbouring lane. With drowsiness behind the wheel being a major contributor to accidents and road trauma, this kind of technology can go a long way in helping minimise the risk of serious injury and death.
Adaptive Chassis Control
As distinct from Driving Mode – which is something available across a number of makes and models – Volkswagen's Adaptive Chassis Control (ACC) is an electronically controlled dampening system. Each shock absorber is connected to a control device, which calculates the best setting for each wheel.
"The technology automatically responds to the road conditions and adjusts the car's braking, steering and acceleration control," says VW's website. "It does this via sensor data and other information it receives from the car. This allows the system to react within milliseconds to bumps in the roads, changing lanes or bendy roads…"
Ultimately, Adaptive Chassis Control helps reduce wear and tear on the car's suspension, as well as keeping you safe on country roads with higher speed limits and inconsistent road surfaces where a sudden loss of vehicle control can have catastrophic consequences.
Blind Spot Detection
Sometimes known as Blind Spot Information System (Ford, Volvo) or Lane Watch, Blind Spot Detection technology is useful in helping drivers avoid accidents or collisions that can arise due to our limited field of vision.
Utilising cameras and sensors built into the body of your car or the side mirrors, Blind Spot Detection systems essentially monitor the traffic around your vehicle and help you identify whether or not it's safe to change lanes – or where cyclists, motorcyclists or pedestrians might be positioned as you attempt left or right turns at intersections.
Forward Collision Warning
Similar to Blind Spot Detection, Forward Collision Warning systems utilise sensors to detect the distance between you and the vehicle in front. The technology then either creates an alert – or, with some systems, hits the brakes – to prevent a crash. More advanced systems on newer vehicles are able to detect pedestrians, cyclists and even straying pets.
With nose-to-tail bingles among the most frustrating and frightening experiences we can encounter while behind the wheel, technology of this type is sure to be a welcome advancement for many motorists.
Trailer Back-Up Assist
Many road users who need to tow a trailer consider successfully reversing that trailer as one of life's dark arts. Whether it's your tool trailer, boat, caravan or a time-honoured 6×4 single axle trailer to get that extra household rubbish to the tip, reversing can be a headache – and even slightly embarrassing!
In their F-150 range in Australia, Ford recently unveiled Pro Trailer Backup Assist* as part of the Co-Pilot360 platform. At (literally) the push of a button on the driver's console, a reverse camera tracks the position of your trailer as you back up. By twisting the button in the direction you want to trailer to move, a steering assist system takes over the steering wheel, helping guide the trailer into position.
Far from being a lazy cop-out, a Trailer Back-Up Assist system arguably allows the driver to better concentrate on his or her surroundings, and minimise the potential risk of damage to other vehicles or property, or injury to other people.
There's significant value in making sure you are up-to-date with the latest available driver tech options when you're making decisions on your fleet procurement or replacement planning. Not only can these gizmos and gadgets increase driving comfort for your employees but they also play an important role in minimising risk and all of the costs ossociated with avoidable accidents
*At the time of writing, Pro Trailer Backup Assist was only available in Australia on F-150 utes. The technology is also available on Ford's Expedition SUVs in US markets.
Start a conversation with LeasePlan today
LeasePlan: Driving Insights