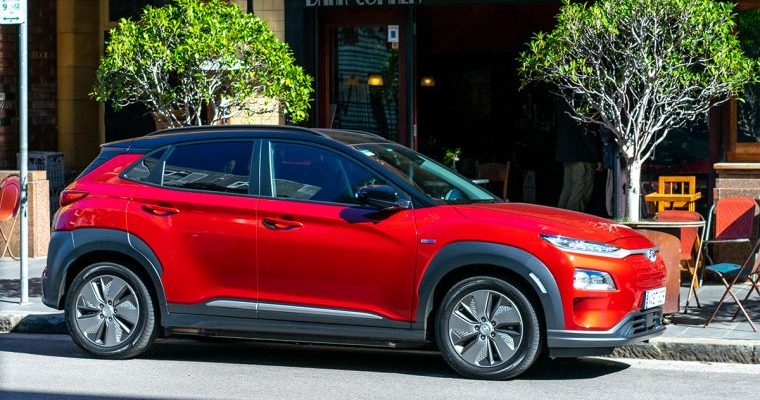 By Andrew Maclean
As far as $64,000 questions are concerned, the Hyundai Kona Electric asks many.
The first of which is; can it justify its premium price tag over a conventional variant of Hyundai's smallest SUV to date? And then there's the same unknowns as most have with battery-powered cars; how far I can travel?; where do I charge it up?; and do I have to drive differently?
Well, for those considering a transition to electric motoring, we're about to find out. The Kona Electric is not only the first fully-electric small SUV on-sale in Australia, it is also the first EV that SG Fleet has added to its own fleet and is available for customers now to borrow, drive and evaluate.
It joins the Ioniq hatchback as part of the South Korean's expanding range of zero emission vehicles – a fleet that will soon include the larger Nexo SUV, the first publicly-available hydrogen fuel cell-powered vehicle in the country.
With a starting price of $59,990 (RRP, plus on-roads) for the entry-level Elite version, we're testing the range-topping Highlander model which costs $64,490 (RRP, plus on-roads) and comes with extras like LED headlights and taillights, sunroof, head-up display, heated and ventilated front seats and a wireless phone charging pad in the centre console.
That's on top of a long list of standard features in the Elite, such as leather seats, climate control air conditioning, keyless entry with push-button start, a fully digital instrument cluster and an eight-inch colour touch screen with DAB+ digital radio, sat nav and smartphone mirroring for Apple and Android devices.
In spite of the significant mechanical differences under the skin, the Kona Electric uses the same body as the regular version. It measures 4180mm long, is 1800mm wide and stands 1555mm tall. The cabin has the same space, with modest comfort for five, while its cargo carrying capacity is slightly reduced – down from 361L to 332L (about a small backpack's worth) – owing to the battery-pack mounted underneath the floor and its more sophisticated multi-link rear suspension.
There are some unique design cues on the outside that set it apart too, including a redesigned front bumper that is both smoother in its profile and has a blanked-in grille, a reprofiled rear bumper and the addition of exclusive turbine-like alloy wheels – all of which improve the vehicle's overall aerodynamic profile to reduce energy consumption at highway speeds.
Behind that grille, in place of a conventional petrol engine and gearbox, there is a much simpler electric motor driving the front wheels through a single speed reduction gear.
The motor produces 150kW of power, which is comparable to a turbo charged Kona, but the Electric has significantly more torque – its 395Nm is about 30 per cent more and is on tap from zero revs, which gives it the ability to zip from 0-100km/h in just 7.6 seconds.
It is energised by a 64.0kW/h lithium-ion battery mounted in the floor of the car that provides a real-world driving range of 449km.
Recharging the battery is a simple process. Behind a flap in the grille there are two charging ports; a Type 2 AC connection at the top and a fast-charging DC port at the bottom.
The battery can be recharged in about 28 hours when the emergency cable provided in the boot is plugged-in to a household powerpoint. That time can be slashed to approximately nine hours if you install an optional high-voltage wallbox.
But rapid charging is – as its says – way quicker. With the capability of handling a 100kW fast charger, the Kona's battery can be replenished to 80 percent in less than an hour.
As for the cost, that depends on how and where you charge it up, but figure on spending approximately $20 for a full recharge – which is about half the spend for a petrol-powered equivalent. You can lower that by programming the vehicle to only charge during off-peak times.
On the subject of running costs, let's talk about other expenses as electric cars have some advantages and disadvantages.
Because they have less moving parts, there is less maintenance needed. An annual check-up (or every 10,000km) that costs no more than $170 is all that is required – which is at least $100 cheaper per year than a petrol Kona.
As for the battery pack, Hyundai offers a guarantee for eight-years (or 160,000km of driving) – which is longer than the five-year warranty on the rest of the vehicle. If a fault occurs during that period, the South Korean brand has a free replacement policy that also covers any recycling costs.
On the flipside, the biggest expense will be its depreciation. While the availability – and demand – for EVs is growing, not to mention the rapid rate of development in battery technology that will increase performance in the near future, there are still concerns over long-term dependability, and, as such, industry forecasts predict the Kona Electric will hold just over 40 per cent of its residual value in the first three years.
So, yes, there are some compromises to consider in early adoption. But what about the experience?
Well, the Kona Electric is actually really simple and quite enjoyable to drive.
To get moving, all you have to do is press the starter button – then D for Drive – and it's ready to go. There's no engine that needs warming up, or one that will wake the neighbours or leave oily stains on the driveway.
Instead, press the throttle and you're greeted with instant acceleration that is both seamless and silent – with the exception of an eerily-faint whirring noise that is projected from the car at speeds up to 30km/h to alert pedestrians of your movement.
Once up to speed, what you do hear more of is road noise from the tyres but even still it is quieter than a petrol car at any speed.
As for how it performs, it has plenty of poke with all that instantaneous torque and feels really zippy around town while cruising effortlessly out on the highway.
The engine has three performance settings – Eco, Comfort and Sport – which progressively alter the power delivery to either extend the driving range or provide maximum performance. But, drive it normally in the default comfort setting and it feels, well… pretty much like any other car.
The steering is a little on the light side and doesn't have a lot of feel through the wheel, but it generally handles well and is comfortable on most surfaces, in part because of Hyundai Australia's investment in tuning the suspension to cater for local conditions and consumer preferences.
The biggest change to get used to is the engine's regenerative braking, which reverses the flow of the electric motor when you let off the throttle to recharge the battery. Yep, that's right… you get free fuel whenever you stop.
As it is with the power delivery, you can toggle through three modes using the steering wheel paddles. In the default middle setting, the Kona slows down naturally when you lift off. But you can either reduce the 'regen' and make it coast freely, which is ideal at highway speeds, or maximise it and the car decelerates as if you've applied the brakes.
This is great in stop-start traffic and means you can drive using just one pedal, and only need to use the conventional brakes for the last portion when coming to a standstill or, of course, in emergency situations. This will also have an impact on lowering long-term running costs.
As for the rest of the package, there's some really cool stuff, like the EV pages in the centre display – which shows a myriad of information, such as giving you a radius of the available driving range, directions to the nearest charging stations and energy consumption data.
There's also a fully-digital instrument cluster that displays the battery charge just like a petrol gauge on the right-side of the central speedo, while a power meter on the left shows how much you are using under acceleration – or creating while slowing down.
And then there's its comprehensive suite of advanced safety systems, including radar cruise control, automated emergency braking, lane keeping assistance and blind spot warning.
In the end, the Hyundai Kona Electric is an impressive little car that doesn't require you to alter your driving behaviour, yet it somehow challenges to do so, by being more efficient. And it doesn't compromise on comfort, space, convenience or safety.
In some ways, it comprehensively answers the $64,000 question. And then it asks its own; why not go electric?
Get in touch with your SG Fleet account manager for more information on how your business can plan for an electric future.
2019 Hyundai Kona Highlander Electric
Engine: Front-mounted electric motor
Power: 150kW
Torque: 395Nm
Acceleration: 7.6 seconds (0-100km/h)
Battery: 64kW/h Lithium-ion
Range: 449km (WLTP)
Price: $64,490 (RRP)
Driving Insights