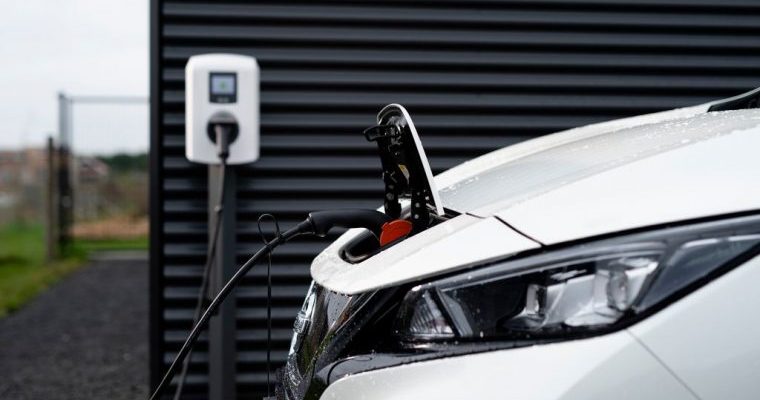 What it's really like to drive an electric vehicle
For drivers
In late May 2019, the Royal Automobile Club of Tasmania (RACT) demonstrated their commitment to reducing emissions and working towards a cleaner, greener future by taking delivery of a fully electric, four-door Hyundai Ioniq through LeasePlan Australia.
The Car
Utilising a 28kWh battery capable of delivering a 230-kilometre driving range – and producing a very handy 88kW/295Nm output – the Ioniq is rated as one of the leading choices in its category.
The Location
While the car was delivered to the RACT's Hobart offices, the Ioniq was destined for use in Launceston, as part of the Club's road safety education programs. In order to get the car to its destination, RACT Policy Officer Alex Luttrell – a former journalist at the Hobart Mercury – and his manager, Will Oakley, got behind the wheel to get a first-hand feel for electric vehicle driving. It was, as Alex explained, an interesting experience.
"We needed to get the car to Launceston somehow, and it just so happened that Will Oakley and I had an unrelated meeting up there," he recalls. "There's a fast-charging station at Kempton now but, at the time, there wasn't one between Hobart and Launceston. So we thought, let's just drive it up there, write an article about it, get some experience with driving one long distance with range anxiety, and see how we go."
The Range
With the trip distance between RACT in Hobart and their destination in Launceston calculated at around the 200-kilometre mark, the journey was off to a less-than ideal start.
"We saw the battery range sitting at 194 kilometres when we started, and we said to each other, 'Oh, this isn't good'!" laughs Alex.
For those unfamiliar with electric vehicles and battery power availability, the more accessories being used in a vehicle – GPS, air-conditioning, music systems and so forth – the greater the drain on batter power: "We turned [everything] off and it bounced up to about 220 kilometres."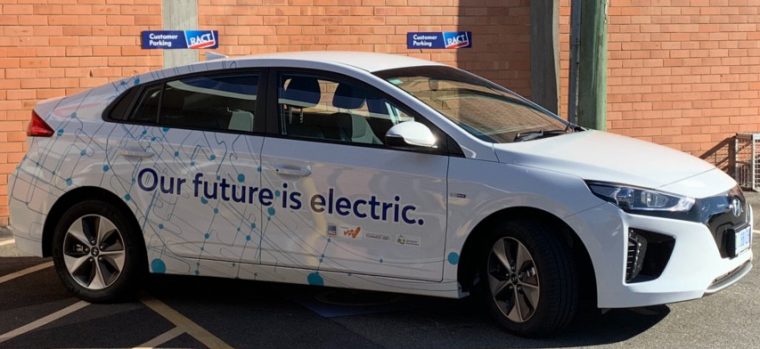 With the range capability sorted (for the time being anyway), the guys set out on the trip north. As well as making an effort to maximise the battery capacity, the terrain outside Hobart also presented the duo with some curly situations.
"The early parts of the highway are quite elevated," explains Alex. "The Ioniq powers up fine but, when you're going up a hill, it uses more battery power. So, I'm watching the range go down, and it got to a point where we had less 'kms' left on the battery than we did with the distance to travel. I think we were just out of Kempton."
"We were advised by one of our experts to sit on about 80kp/h – don't go over 90kp/h – and the highway has a speed limit of between about 100 to 110kp/h most of the way. So we're getting overtaken left, right and centre and it was just starting to get a bit… it got a bit nerve-wracking."
The Infrastructure
"We got to Campbell Town where there's just a makeshift wall outlet to charge, so we sat there and we had some lunch for just under 30 minutes, and it only put five kilometres on the battery. Will took over driving and he thought we should give cruise control a shot to see if we could get more of a consistent output out of the motor. That saved us, I reckon."
As Alex and Will progressed towards downtown Launceston, the Ioniq's regeneration mode became a metaphorical lifesaver. Using kinetic energy off the drive wheels when traveling downhill for parts of the trip, applying light pressure to the brakes in a Hyundai electric vehicle takes that energy and re-directs it to the car's battery, adding some much-needed charge. As luck would have it, significant parts of the journey were now on downhill slopes.
"We added about 10 kilometres onto the battery by using brake regeneration, which was pretty cool," admits Alex. "It slows the car right down and then we'd see the range starting to go back up really slowly on the dashboard. That was really cool, and it made a difference.
"We had just left the town of Perth – about 15km from Launceston – when the warning light came on saying we only had 13 percent battery left, or 23km of range. That was just enough to get us there."
With the trip completed, Will and Alex checked into the fast-charging station in Paterson Street, Launceston for a well-earned power fill-up and a sigh of relief: "It added 177 kilometres in 28 minutes or so… We were very happy to make it there."
The Market
Far from being a negative experience, Alex believes their adventure highlighted a lot of the issues currently hampering the growth of electric vehicles and underscored the importance of a number of policy positions the RACT supports – policies such as the development of a statewide fast-charging network as an urgent priority "to reduce range anxiety".
"EVs have been around for a while now, and we're still at a crossroad," says Alex. "It's definitely going to be an interesting few years to see where the technology goes. Governments need to get fleets up and running, and that's what we're trying to work towards."
"If you've got the money now, people are buying EVs and getting great use out of them but then there's obviously people traveling long distances, or they need a ute, or a bigger car like a light commercial vehicle."
"A significant issue that most people who want to switch to electric face is they are still quite pricey because the technology is still developing," observes Alex. "Even though lithium ion battery prices are coming down, and they're making the cars more affordable, the cost parity with internal combustion engines (ICEs) is mid 2020s, and that's what it's about for us [at RACT] – making people aware of that as those prices come down."
The Verdict
As the range of EVs available on the market expands and the infrastructure to support them on the road evolves, the adoption of these kinds of vehicles will rise dramatically, Alex believes.
"Once all the dots connect, an EV is definitely something that I would consider, and I'm sure other people would as well."
"I'd seen them around, obviously, and I'd been interested in them but I'd heard things like they're gutless and they don't have the same pickup as a petrol car," confesses Alex. "But when you get into one, it just looks like a modern car. You take off and it's quiet and it's got great pickup, great acceleration. It would beat my car off the line. I have a two-litre Subaru but the Ioniq would smash it."
"I think, having driven one now and having researched them in depth, and spoken to lots of experts on them, you start to pick up an awareness. And I think that's what we're trying to do here, trying to get people aware of the technology; that it's not just some prototype that doesn't have any power."
"The Ioniq really surprises you," Alex concludes with a laugh. "It's a real pleasure to drive – a beautiful car to drive. I'm a bit upset that it's up in Launceston."
Read Alex's RACT story here: https://www.ract.com.au/cars-and-driving/related-articles/putting-our-ev-to-the-test
Start a conversation with LeasePlan today about electric vehicles.
LeasePlan: Driving Insights