Busted: What you thought you knew about electric vehicles
For drivers
The motoring industry and the vast majority of corporate fleet managers all agree that electric vehicles are the way of the future. But, as with a number of progressive advancements in technology, people are slow to come to the party and, indeed, are often resistant to embracing it.
There are a lot of reasons for this. The cost of getting on the road in an electric vehicle is certainly one of the main hurdles. The case for electric and hybrid vehicles isn't being helped by number of fallacies pedalled by people in the public arena
There is a deep-seated reluctance to see beyond the tried and trusted combustion engine paradigm towards a new way of doing things.
In an effort to bust some of the myths around performance, comfort and travel range in electric vehicles (EVs), Hyundai Australia recently offered LeasePlan fleet customers with the opportunity to get behind the wheel of some of their latest electric and hybrid vehicles, only weeks on the market.
Under the watchful eyes of supervisors from Murcotts Driving Excellence and  product experts from Hyundai Australia, participants were able to put the 88kW/295Nm Ioniq Hybrid passenger car and the 150kW/395Nm Kona electric SUV through their paces at Melbourne's Sandown Raceway and speak firsthand with some of the people at the coalface of the next wave of vehicle technology.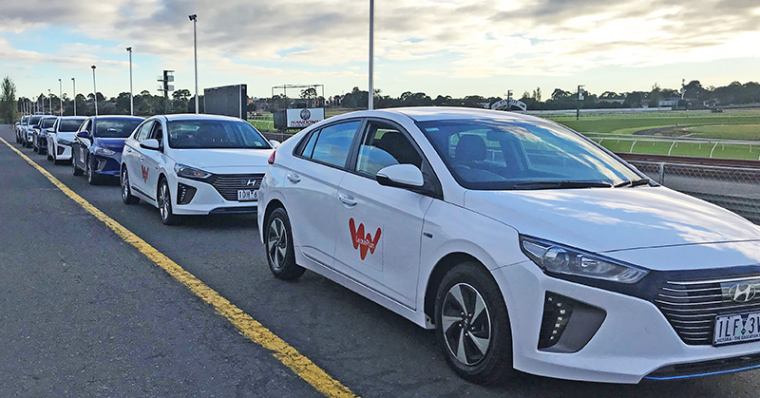 Fleet manager feedback
George Leach from JG King Construction Group was impressed with the performance of both the Ioniq and Kona but says his organisation finds themselves in the position of waiting for the market and the product offering within it to evolve.
"Our fleet vehicles require high ground clearance, and a lot of electric and hybrid vehicles aren't designed for that at the moment," he explains.
Nonetheless, George was taken by surprise with the torque and power of the Hyundai Ionic and Kona after taking to the Sandown track. "Absolutely," he enthused. "They're the way of the future, those types of vehicles."
Paul Kircher from Australian Clinical Labs said his organisation was committed to implementing electric vehicles but, as with any business, costs beyond on-road and the basic purchase price were a significant consideration when it came to transitioning to EVs.
"There was a conversation around the different size of charging stations," he reflected. "You can buy the standard one, which takes six to nine hours to charge, right up to the kind of charging station that takes 23 to 55 minutes to charge. The understanding of those things is vital [in making a decision to go EV]."
"The fleet that we run in Melbourne is over 150 vehicles, and we have 40-odd vehicles at one site, 20-odd vehicles at another and so on. If we've got to buy 50 or 20 chargers at each location, that would then start to cost a lot of money. For us, it might not be so feasible," Paul observes. "Yes, it might reduce running costs and maintenance, etc., but it also comes down to logistics and the space to have these chargers as well, because they're not that small."
Charging
In addressing concerns around the ability to charge vehicles, Scott Nargar from Hyundai conceded, while the charging station costs could be steep for some large organisations at present, the long-term benefits were significant.
"That charging station is your petrol station for the next 30-40 years," he explains. "You won't need to replace that. You are the petrol station then. You control the energy going in. If you've got solar on the roof, charge your cars during the day at work with solar straight into the car if you wish, or if the cars are at work overnight, use off-peak power and the cars will switch on to off-peak power and start charging itself."
Scott also explained that Hyundai is one of many organisations working to supply the kind of infrastructure that will make electric vehicle recharging simple and far more time-efficient.
"Having the infrastructure in place, whether it be for electric vehicles or hydrogen fuel cell infrastructure, we're working on it now," he continues. "Hyundai started a company back in 2013 [to address the creation of recharging infrastructure] and some of the members of that company are Caltex, BP, Viva Energy, Woodside, Siemens and Wesfarmers. They're all members of a company that are working on the infrastructure for the future."
Scott also highlighted overseas investment coming into Australia to make this new recharging infrastructure a reality.
"There are 7,000 fuel stations around Australia. The forecourt infrastructure of 80 percent of those stations is managed by a company called Gilbarco Veeder Root," he says. "Their head company in the US purchased 20 percent of Tritium EV rapid charging stations in Queensland in early 2019. So a global infrastructure company that controls 80 percent of the forecourts in Australia, and 60 percent of all petrol stations globally, has invested a good chunk of their money into Australian-built DC rapid-charging stations."
"In the future, they'll be servicing refuelling station forecourts, they'll be servicing hydrogen bowsers and electric vehicle charging stations."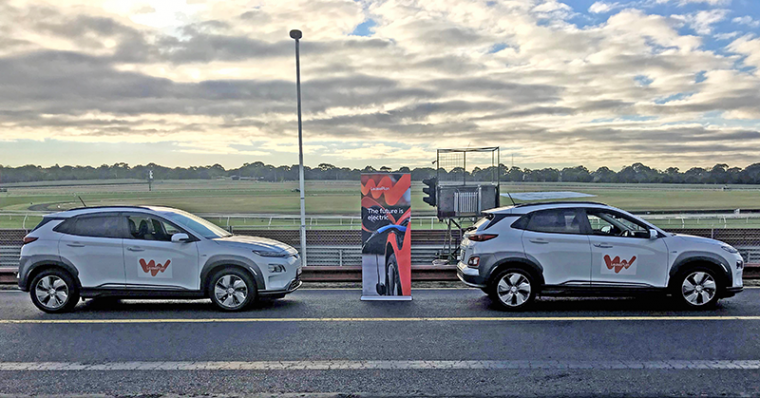 Range
Range is also a significant concern for many fleet managers when it comes to transitioning from internal combustion engines to electric. Electric vehicles are something of a challenge for the group at the moment.
"Some of the supervisors at JG King are travelling 400 to 500 kilometres a day," admits George. "So, on top of the types of vehicles available at the moment – at this point in time – they're probably not the ideal vehicle for what some of our staff are doing at the moment."
How far a vehicle can drive in real-world, everyday conditions is an issue of concern that Scott is fond of busting: "The Kona EV we've got here today has a real-world range of 449 kilometres. In fact, the government fuel consumption label on the dashboard says it will do 557km. So, if you use the technology in the car [including features like regenerative braking], you will get well over 500 kilometres."
"There are people in Europe who are known as hypermilers who have got over 800 kilometres in a Kona," admits Scott. "When they review electric vehicles, some journalists will hypermile a car. They'll have a really big toilet break before they go driving, they'll be driving at a fairly moderate speed – nothing high – and they'll have everything off [air conditioning, radio, sat nav and so on]. By driving as green as they can and in a battery production car, they've recorded 800 kilometres."
"I've got nowhere near it because I like my creature comforts," Scott laughs. "I like my music, my heater going, so I can get well over 500 [kilometres] driving freeway speeds from the Blue Mountains to Canberra – and that's using the heater or air conditioning and having the phone charging and the radio and so on."
Moving to electric
So what does Scott think should be the first step for fleet managers converting to electric? Like George from JG King, he advises that understanding exactly how your fleet cars are used is vital.
"Understand how many kilometres you're doing in those cars per day, and determine whether you need a big battery like the Kona [64kWH capacity] or a small battery like the Ionic [28kWh capacity]. Talk to LeasePlan about the charging requirements for your work or at home, or however you want to do it, and then you just buy it like you would a normal car."
"Work out how you're going to use it and whether the kilometres suit your range with a high range car or a medium range car, organise your charging station… and that's it. It's nothing harder than that."
View our Start Electric page and start a conversation with LeasePlan Australia about electric vehicles today. 
LeasePlan: Driving Insights