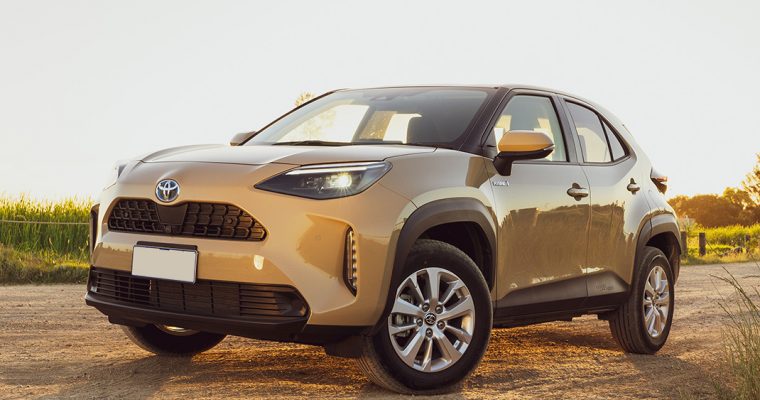 By Andrew Maclean
Toyota has been a pioneer of hybrid technology for more than 20 years and was at the forefront of the SUV revolution with its RAV4 well before soft roaders were the vehicle of choice for modern Australian families.
Now it has rekindled the spirit of that original baby bush basher – and reinterpreted the definition of a hybrid – with a new entry-level SUV that fuses together the best attributes of its popular Yaris city-sized hatchback with the RAV4 to create a new entry point into its expanding league of SUVs and four-wheel drives with this vehicle, the Yaris Cross.
As demand for SUVs continues to soar and the RAV4 grew in size over its five generations, the Yaris Cross slots into the Toyota family underneath the sporty C-HR, RAV4 and Kluger in its passenger car-based SUV range, as well as its traditional four-wheel drives in the HiLux-based Fortuner, Prado and flagship LandCruiser.
Design
While it borrows some of the cute Pokemon-style design cues of the Yaris in order to justify its name, it is actually more than just a jacked-up, high-riding version of Toyota's smallest hatchback. It is physically bigger in every dimension – and even larger than the original 1994 RAV4 – thanks to its unique body that is 240mm longer, 70mm wider and 80mm taller than a standard Yaris, following the same formula as its established competitors such as the Mazda CX-3, Mitsubishi ASX, Hyundai Venue and newcomers like the Volkswagen T-Cross, Ford Puma and Kia Seltos.
It is available in three model grades – GX, GXL and Urban – each of which is offered with the choice of three powertrain configurations; a standard petrol-powered front-driver and two Hybrids with either front- or all-wheel drive. All three utilise the same 1.5-litre three-cylinder engine at their core, which produces 88kW of power and 145Nm in regular models, and have a continuously variable transmission (CVT) automatic.
Performance
However, the petrol engine in Hybrid variants features a lean-burning Atkinson cycle cylinder head that reduces peak outputs to 67kW and 120Nm. But, when linked with the 59kW electric motor set-up, it almost matches the petrol motor for peak combined power at 85kW and trumps it for pulling power, with more than 150Nm of torque.
Complicating things further, the front-drive Hybrid has a pair of small electric generators that provide additional propulsion while all-wheel drive set-up, obviously, adds a third motor on the rear axle (with 3.9kW and 51Nm) for added traction and security in slippery conditions.
More than anything, the Hybrid set-up brings significant gains in fuel consumption. While the standard petrol engine models are pretty frugal with a claimed average of 5.4L/100km, the front-drive Hybrid is one of the most efficient non-fully-electric cars on-sale today with a claimed average of 3.8L/100km. The additional weight and performance of the all-wheel drive offsets its consumption slightly with a claimed average of 4.0L/100km.
Pricing
Prices for the Yaris Cross start at $26,990 (plus on-road costs) for the standard petrol-powered GX, with the GXL costing from $29,990 (plus on-roads) and the Urban priced from $32,990 (plus on-roads). The basic Hybrid layout costs an additional $3000 across the range while the all-wheel drive Hybrid adds $6000 to the base cost.
In any case, even the entry-level GX comes fitted with a generous list of standard equipment, including 16-inch alloy wheels, climate control air conditioning, a part-digital instrument cluster and a 7.0-inch infotainment touch screen with DAB+ digital radio, Bluetooth connectivity, smartphone mirroring for Apple and Android devices and a six-speaker audio system.
Safety
It has a comprehensive array of safety systems too, with radar cruise control, lane keeping assistance, speed sign recognition, rear-view camera and autonomous emergency braking (AEB) while occupants are protected by eight airbags including a class-first centre airbag that limits injuries between front-seat passengers in the event of a side impact.
The GXL model adds a few niceties like standard sat nav and LED head lamps but, more importantly, ups the ante on safety with front and rear parking sensors, a 360-degree parking camera, blind spot monitoring and rear cross traffic alert.
At the top of the range, the Urban has unique 18-inch alloy wheels, partial leather and tweed fabric-trimmed seats with heating for the front seat occupants and power adjustment for the driver, as well as a head-up display, an additional USB power outlet in the dash and an automated tailgate.
Driving the Toyota Yaris Cross
We're testing the mid-range GXL with the high-spec all-wheel drive Hybrid configuration, which costs from $34,990 (plus on-roads).
First things first, it doesn't feel like a small car from behind the steering wheel as the high-seating position offers a commanding view through the expansive windscreen with great support from the bolstering and plenty of adjustment in the driving position. There's excellent headroom for all occupants and surprisingly decent rear leg room for a car of this size, as well as a generous 319L of cargo-carrying capacity in the boot.
The overall cabin layout is simple, the hard plastics feel tough and the audio system is rather tinny in its sound quality, lending it more of budget-car ambience than its sticker price should command, but there are plenty of convenient hidey holes for storage and the display screen is easy to access for its myriad of functions.
On the road, the Yaris Cross surprises too with its well-rounded driving character that makes it feel more substantial than its size and specifications would suggest. The steering is nice and positive and the suspension is nicely calibrated in that it has a degree of suppleness that takes the edge of sharp bumps and yet feels planted and secure in the bends.
The petrol and electric powertrain work seamlessly with the CVT automatic as well. If you treat the accelerator gingerly, the Yaris Cross will smoothly and silently whoosh away from a standstill and can easily cruise at city speeds for short bursts using the battery power alone.
While the chubby little three-cylinder chimes in smoothly when you ask for a bit more, its arrival is rather noticeable thanks to its thrummy and warbling soundtrack. Despite that, the combined effort of the petrol and electric motors working together makes the Yaris Cross feel like it has a much bigger and more powerful engine than it does on paper.
It's certainly not a sports car by any stretch of the imagination, but it is rather fun to punt along.
With just 20mm more ground clearance than a regular Yaris (taking it to 170mm), nor is it a proper off-roader. But the all-wheel drive is smart and offers a number of drive settings that tailors the torque delivery for different road surfaces, including a Trail mode that constantly modulates the power provided by the rear electric motor for greater stability on gravel roads.
Toyota – rather politely – says the Yaris Cross has "country-roving capabilities" rather than any proper 4×4 credentials. In reality, it won't get you further off the beaten path than any other small hatchback, but the all-wheel drive traction does offer a little more security in slippery conditions.
Summary
In the end, the Toyota Yaris Cross is a true hybrid – no matter which engine configuration you choose. Even though it's at the pricey end of its class – and asks the question of whether you would pay the same money for a slightly bigger SUV – it's a classy little machine that is ideally suited to tackling the terrain in today's urban jungle, cheap to run, fun to drive and surprisingly bigger on the inside than you'd imagine.
If anything, and as the only petrol-electric option in its class, it further democratises the availability of hybrid technology and a great way to begin the transition to zero emission motoring.
Specifications
2021 Toyota Yaris Cross GXL Hybrid AWD
Price: from $34,990 (plus on-roads)
Engine: 1.5-litre three-cylinder petrol-electric
Power: 85kW (combined)
Torque: 145Nm
Transmission: Continously variable automatic (FWD), electric motor (RWD)
Fuel Consumption: 4.0L/100km
LeasePlan: Driving Insights