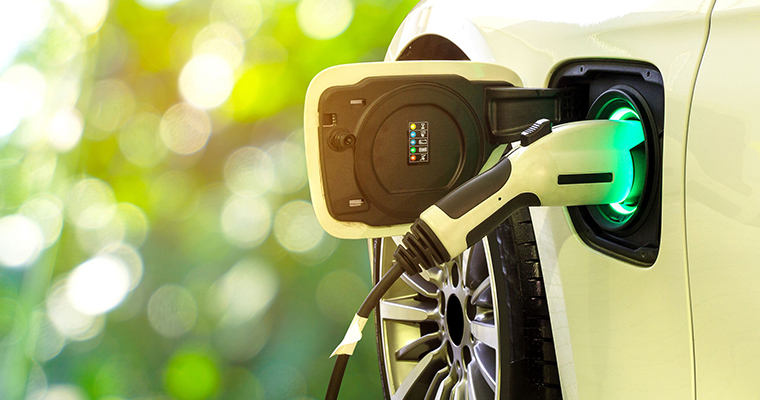 Top 10 electric cars you need to know about in 2020
For drivers
By Andrew Maclean
This year not only brings the dawn of a new decade, but also a bright blue sky for the automotive industry as any clouds covering the viability of the electric car will be blown away.
According to the Bloomberg New Energy Forecast's Electric Vehicle Outlook report issued in 2019, electric vehicles will make up one-third of the world's passenger car fleet in the next 10 years and predicts that figure will rise to 57 percent by 2040.
You cannot ignore it; electric cars are the future. And the future is rapidly driving towards us, with a raft of ground-breaking new EVs set to come into view over the next 12 months.
So here's the 10 electric cars coming in 2020 you need to know more about.
Kia e-Niro
The South Korean car maker has a small issue with its first fully electric car; it is proving too popular. The Kia e-Niro is a small soft roader that can seat five, has all the latest safety technology, produces 150kW of power, can travel up to 460km between recharging the battery and costs less than a fully-loaded Sorento SUV.
Kia Australia initially planned to have the e-Niro in local showrooms at the beginning of 2020, but it has become such a huge hit in Europe that its production line is at full capacity and it now seems Australians will have to wait until the end of the year before it officially arrives.
By that time, Kia could have a pair of electric cars in its local line-up with the e-Soul – a battery-powered version of the quirky-yet-cool mini MPV – also in the pipeline.
Volkswagen I.D. 3
In an effort to counteract any negative perceptions of the brand following its emissions cheating scandal a few years ago, Volkswagen quickly launched an ambitious electric car strategy to become the global leader in battery-powered vehicles with a target to sell more than 1.5 million EVs per year by 2025.
The cornerstone in that plan is the I.D.3 hatchback that was revealed in final production form at the 2019 Frankfurt motor show and is set to go on-sale here in the next 12 months. It will be offered in three model grades with the driving range extending from between 330 to 500 kilometres. The entry-level version is set to cost around the same as the regular petrol-powered Golf, making the I.D.3 a viable and affordable alternative to a conventional hatchback.
It is only the beginning of a massive EV family to be built off Volkswagen's Modular Electric Drive Toolkit (codenamed MEB) with up to 25 different model variations under development, including a born-again Kombi van, a range of SUVs in various sizes and even a 1970s-inspired beach buggy.
Mercedes-Benz EQV
Proving that not all electric vehicles are small, Mercedes-Benz has expanded its EQ family of battery-powered vehicles with the EQV – a luxurious minivan that is ideal for large families, small tour operators or shuttle services.
Essentially an electric version of the existing V-Class, the EQV is offered with either seven- or eight-seat layouts and in short- or long-wheelbase configurations, each driven by a 150kW electric motor that is powered by a 90kW/h lithium-ion battery pack that can deliver up to 405km driving range.
Mercedes-Benz Australia has yet to confirm local details for the EQV, which is set to join the recently-launched EQC mid-sized SUV as the founding members of a larger EQ line-up that will consist of 20 electric cars due to be released in the next five years.
Mini Cooper SE
It was inevitable that Mini would produce an electric version of the re-born British icon, as parent company BMW used an experimental fleet of battery-powered Minis to develop its electric car infrastructure.
While that previous model was limited to just 500 cars and offered for lease only in Europe and the USA, the new Mini Cooper SE (as it will be called) is going global and coming to Australia in the middle of the year with an expected price tag of around $50,000.
Powered by a 135kW electric motor, the Cooper SE can travel between 235-270km on a single charge while its unique T-shaped battery ensures the cabin space within the diminutive hatch isn't compromised compared to a petrol-powered version.
BMW iX3
If you're after something a little more family-friendly then BMW is also set to launch a fully-electric version of its popular X3 SUV later this year.
The iX3, which has so far only been revealed in concept form, is due to start production in China this year utilising the German company's latest-generation electric motor and battery, which use less rare metals than before and yet is still capable of producing over 200kW of power with a driving range of more than 400km.
Ford Mustang Mach E
Making electric cars desirable is a key part to increasing their popularity, and Ford essentially picked the lock with its first dedicated EV by linking it with its iconic Mustang sports coupe.
The Mustang Mach E borrows some design cues from the latest iteration of the famous muscle car – such as its traditional three-bar tail lights, slim headlights, the shape of its grille and, of course, the pony badges – but the reality is that it's a totally different kind of machine; a high-riding, four-door, five-seat family SUV.
Still, it does look cool and will be available in a variety of models, with the flagship GT producing more than 342kW and 830Nm, capable of accelerating from 0-100km/h in a whisker over 3.5seconds and delivering a driving range of 480km between recharges.
The Mustang Mach E has yet to be confirmed for sale in Australia, but has been earmarked for right-hand drive production and is, therefore, almost certain to arrive later this year.
Mazda MX-30
Mazda has almost reluctantly joined the electric car race with its MX-30; a small battery-powered SUV with a 103kW motor and 35.5kW/h battery that provides approximately 300km of driving range.
The Japanese car maker has admitted it will only introduce its first EV to specific markets that regulate a reduction in overall fleet emissions in order for it to continue selling its petrol-powered vehicles. So, without any government incentives for electric vehicles in Australia yet, and demand for EVs still in its infantile stage, Mazda's local operation is a little circumspect about its viability here, yet still appears interested in adding the MX-30 to its line-up.
Volvo XC40 Recharge P8
Long regarded for its pioneering safety developments, Volvo is now leading the electric vehicle charge with its recent move to only produce mainstream vehicles with an efficient four-cylinder engine and offer a hybrid option for each model line, while also creating a new purely-electric sports car division called Polestar.
Now, it has fused those aspects together and revealed the first Volvo-badged electric car with the XC40 Recharge P8 that has two electric motors that generate 300kW of power and a 75kW/h battery that provides 400km of range.
Volvo has confirmed the XC40 Recharge P8 will arrive in Australian showrooms in early 2021.
Tesla Model Y
Elon Musk has finished the first stage of his ambitious plans for Tesla with the official release of its fourth variant, the Model Y small SUV. It joins the original Model S sedan, the smaller Model 3 and Falcon-doored Model X seven-seater to complete his S3XY line-up. Get it?
Like the Model 3, the Model Y will be offered with a collection of dual-motor models – a Long Range version that can travel up to 480km or a Performance variant that sacrifices some of that driving range to be one of the quickest SUVs on the planet.
An entry-level single-motor model will be added next year with an expected price tag of approximately $70,000 when it arrives in Australia.
Rivian R1T
Tesla isn't the only American EV start-up creating a challenge to the big players of the automotive industry, with Rivian taking a unique approach with its R1T pick-up truck and R1S full-size SUV.
Based in Michigan, the heartland of America's car industry, rather than the tech centre of Silicon Valley, Rivian, in which Amazon has invested $700m into, claims to be "an electric vehicle manufacturer on a mission to keep the world adventurous forever."
The bold and boxy-looking R1T and R1S essentially share the same basic layout, with a skateboard chassis that incorporates the battery pack, electric motors and suspension, with both offering genuine off-road capabilities with high ground clearance, decent water-fording capacity, heavy-duty towing ability and can climb inclines up to 45 degrees.
Rivian has outlined it will offer three versions of each – ranging from an entry-level model with 300kW and a driving range of around 370km, a long-range model with 522kW that can travel up to 660km and a wickedly-fast, high-performance version with 562kW that can match the fastest supercars on the planet in accelerating to 100km/h. Rivian has also indicated it will produce vehicles in right-hand drive with plans to introduce the brand to Australia in the next few years.
Driving Insights